Regular price
Sale price
$19.99 USD
Unit price
per
Sale
Sold out
Upgrade your IMMUNITY with Profi. Formulated by scientists at Harvard Medical School, Profi uses natural molecules to block & neutralize inhaled germs.
View full details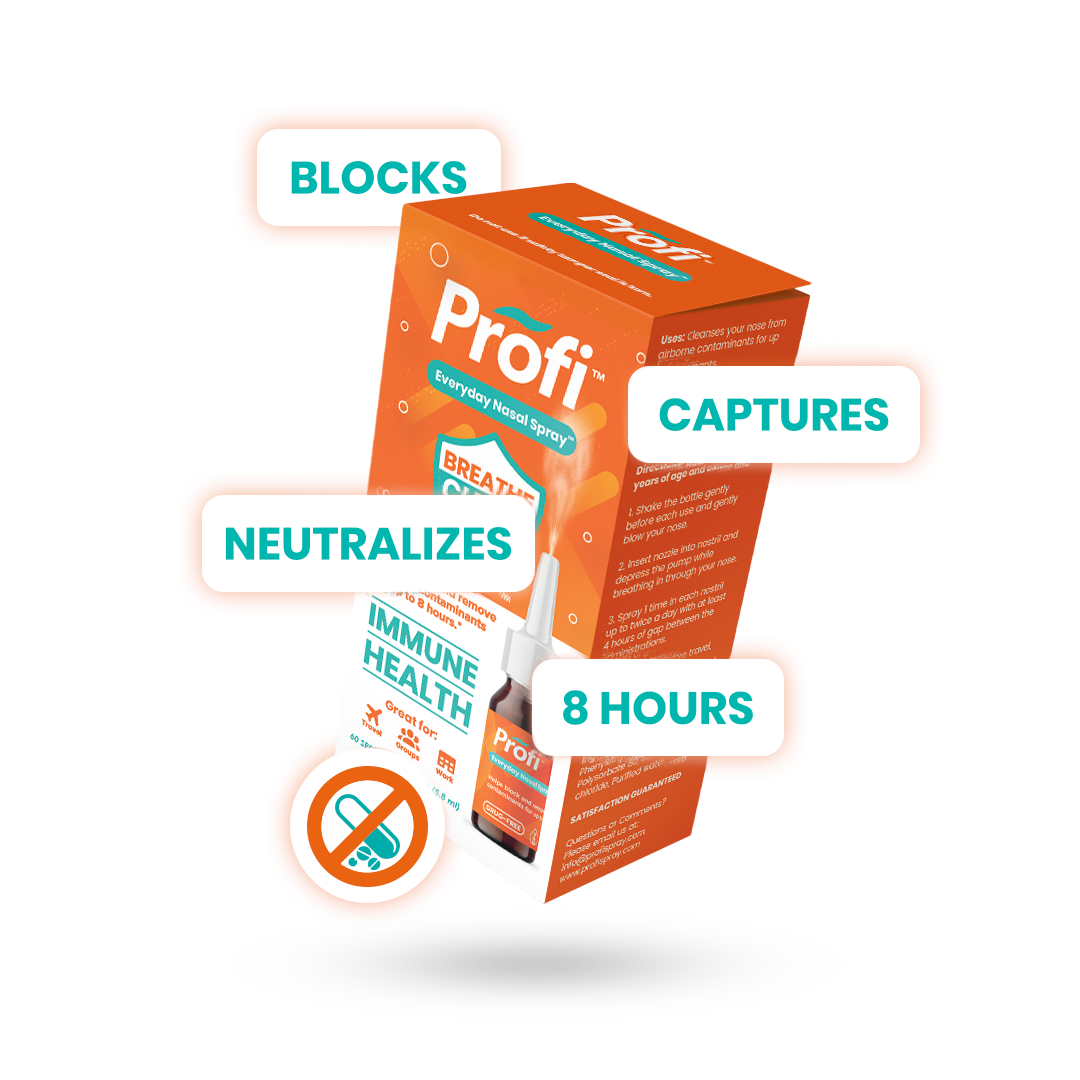 Profi Power
Profi is a whole new approach that works WITH our natural defenses.
✔️ Scientifically proven to work across a WIDE range of airborne contaminants
✔️ Clinically used naturally occurring molecules, including pectin & gellan
✔️ USP-certified ingredients to ensure quality and purity in each spray
✔️ Drug-free, non-drowsy, & non-addictive
— Kathy W

"I use before and after flights and while traveling for work. Fits in my purse for high-risk situations. It's one of the ones I know actually works…"

— Christina M

"I do not consider myself a nasal spray girl, but I tried this product when masks came off. Very easy and quick to use, no stinging or discomfort. A totally different way to support my immune system, simply does not compare to other nasal sprays."

— Megan L

"Really every person in America should have a bottle of this in their cabinet, or better, their purse. The published science is incredible, and I love that it's drug-free."
Fast Shipping

100% Satisfaction

Drug-free

Backed by Science
What's Inside?
Profi™ contains just 6 ingredients, all of which are listed on the FDA's IID or GRAS lists. These ingredients are clinically proven to be safe for nasal applications.
Pectin

Extracted from orange peels and known for natural protection.

Gellan

Natural ingredient that forms a hydrogel that helps block airborne contaminants. 

Purified Water

Helps to form a mist of perfectly sized droplets.

Phenethyl Alcohol

Organic compound found naturally in flowers. This ingredient helps to increase shelf life.

Polysorbate 80

A solubilizer that helps maintain a smooth consistency for long-lasting support.

Benzalkonium chloride

Organic compound used as a broad-spectrum preservative.
Profi™ is manufactured in the USA using USP-grade ingredients that meet the highest purity and quality standards.